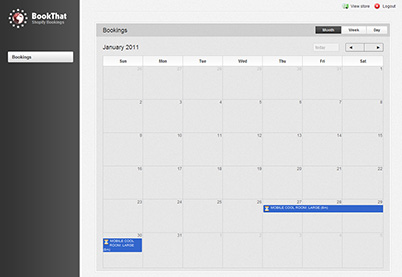 Book That!
Do you offer products for hire (rental), run courses or want to be able to take reservations for appointments, bookings and activities using products from your Shopify store? BookThatApp tracks your Shopify orders and maintains a bookings calendar for your products. Our easy to use calendar let's you see at a glance your bookings on a monthly, weekly or daily basis. BookThatApp features real-time availability showing what products are available based on the inventory you specify in Shopify.

Signup Now!
$US 19.95/month - 30 day free trial.
Features & Specs
Shopify Booking Engine

BookThatApp seamlessly integrates with Shopify to keep track of bookings made for your products. When an order is placed a booking is automatically created in BookThatApp.
Book Anything!

BookThatApp is perfect for stores offering equipment or product rentals, course and class bookings, tours and activities, or as an appointment management system.
Real-time Bookings & Availability

BookThatApp's reservation management system integrates into your product and cart pages offering availability updates in real time.
Pending/Confirmed Bookings

BookThatApp can be set up to create reserved bookings for orders where payment is authorized, but not captured. Once a payment is made, the booking becomes confirmed.
View by Month, Week or Day

View bookings using Day, Week, or Month view. Color coding lets you see at a glance your confirmed and pending bookings.
Brought to you by Zetya

Zetya have years of experience developing Shopify themes and apps, and our help desk and dedicated support forum ensures you get timely and expert help.